Save The Date!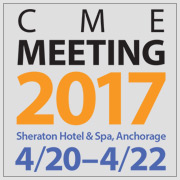 The Alaska Chapter of the American College of Physicians (ACP) and the Alaska Osteopathic Medical Association (AKOMA) will present the 2017 Spring Meeting April 20-22, 2017 at the Sheraton Anchorage Hotel and Spa.
More information will be posted when it becomes available.
---

Good news! AKOMA is rearranging its billing cycle to align with the American Osteopathic Association. That means renewal to both organizations can be completed at the same time for your convenience.
Click here to access our membership page where you can pay dues, view/change your membership type, and update your contact information. Log in using your created username and password. If you do not have an account, please click the sign up button to create one.
If you have any questions, please contact us at (312) 202-8190 or at akoma@osteopathic.org
We look forward to you joining us again!
---
President's Message & AOA House of Delegates Report
A letter from AKOMA President Nancy Kragt, DO regarding the present and future of the organization, along with highlights from the AOA House of Delegates.