Leading in a Changing Healthcare Environment

AOA's Advocacy for Healthy Partnerships Conference Covered Array of Leadership Topics
By Andrew P. Peck for alaskado.org



Leaders in today's healthcare environment have to be ready for rapid change on numerous fronts. With those challenges in mind, leaders in the osteopathic profession assembled in Tampa during January for the AOA's Advocacy For Healthy Partnerships conference. AKOMA was represented at the gathering by President Nancy Kragt, DO.
Designed for physicians in the osteopathic profession, the AHP Conference featured a series of training sessions covering a diverse range of knowledge and skills to aid leaders in the field of Osteopathic Medicine. Attendees received expert advice on successfully advocating for patients and engaged in discussion on topics such as grassroots advocacy, emerging issues in health policies, and technological innovation.
The event included a discussion on resilient leadership with Lt. General Russel L. Honoré (US Army – Ret.) commander of the joint task force responsible for coordinating military relief efforts for Hurricane Katrina-affected areas. The leaders in attendance also heard from Mark Kelly, retired American astronaut, engineer and U.S. Navy Captain. Kelly told the group to think independently and question conventional wisdom. "None of us is as dumb as all of us," Kelly said.
Dr. Kragt said she received an abundance of information to bring back to her colleagues and practice in Alaska.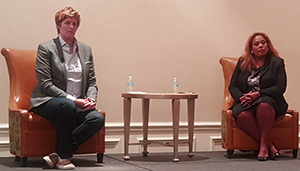 "I actually thought that they had an amazing and wide variety of speakers," Dr. Kragt said. "I would say my favorites were General Honoré and Captain Mark Kelly I thought was a really special treat. I really enjoyed the CNN commentators (Sally Kohn and Tara Setmayer) and the debate on the Affordable Care Act."
Dr. Kragt said she had been inspired to inquire about new innovations and technology within the healthcare industry.
"The talk on healthcare innovation and where it is going in the future was kind of an eye-opener to me," she said. "One of the questions I have is about how some of these projects are funded. I've already started researching that."