SAVE THE DATE:
Spring 2019 CME Meeting in Anchorage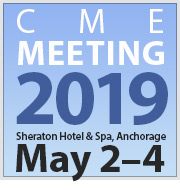 The Alaska Osteopathic Medical Association, in conjunction with the Alaska Chapter of the American College of Physicians, will hold its Alaska ACP and AKOMA CME 2019 May 2–4 in Anchorage, AK.


Highlights include:
Conveniently located at Sheraton Anchorage Hotel and Spa in Anchorage, AK. There are a limited number of rooms reserved under ACP AKOMA CME at a rate of $101 per night. Please call (907) 276-8700 to reserve your room and ask for the ACP AKOMA CME 2019 room block. NOTE: Discounted rate and room block is only held until April 10. Regular rates will apply for all reservations thereafter.
Early Bird registration is now closed.
CME topics include:

Use of Mobile Health Technology for Medication Adherence, with Christopher Blosser, MD
Diabetes Update 2019, with Ross Tanner, DO
Molecular Diagnostics: The Benefits, Costs, and Reliability of Rapid Infection Detection, with Andrea Cabellero, MD
OMT Workshop with Crystal Martin, DO – An Osteopathic Approach to Common Clinical Problems
Immunization and Communication: How to Deal with Vaccine Hesitant and Anti-Vaccine Families in a Fact-Resistant World, with Dr. Robert Hopkins.
Maintenance of Certification Module
Download a copy of the CME Conference brochure. If you'd like a PDF of just the agenda, we've got you covered.

For more information and to register, visit ACP online.

---