Spring 2017 CME Meeting in Anchorage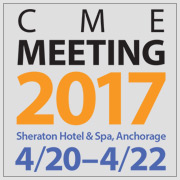 The Alaska Osteopathic Medical Association, in conjunction with the Alaska Chapter of the American College of Physicians, will hold its Alaska ACP and AKOMA CME 2017 April 20–22 in Anchorage, AK.
Highlights include:
Conveniently located at Sheraton Anchorage Hotel and Spa in Anchorage, AK. Rooms available at a special rate of $99/night – please call (907) 276-8700 to reserve your room
Early Bird rate are available before March 1, 2017
Daily registration rates are available
CME topics include:

Diabetes: Technologies and Medications
Thyroid Nodule Management in 2017
Pulmonary Case Discussions and MOC Status
Contemporary Management of Heart Failure
Heart Valve Approaches
Physician Well-being and Burnout
Natural Disaster/Terrorism Physician Preparedness
MOC SEP module – Hospital Medicine Update
Download the program/registration brochure. In order to receive AKOMA discounts, members must call in or fax the registration form.
To register online, visit ACP online.